Article content
Taiwanese technology and machining company AXILE Machine is opening a facility in Windsor to serve as its North American technology centre.
Article content
The company will invest $3.5 million in the 5,000-square foot centre on Rhodes Drive and employ five people to start with plans to expand to 25 within three years. AXILE will also partner with the University of Windsor on hi-tech projects.
Article content
The company will use the space for training for clients on their three and five axis CNC equipment, sales, distribution hub and research and development.
"AXILE Machine has established its first overseas tech centre in Windsor-Essex, the most important die and mold industry centre in North America," said AXILE president Paul Chang.
"This is the trigger for the AXILE hi-tech automation products further development in the region. AXILE endeavours to offer its intelligent automation and management, digital products, training application and service excellence to the regional industries."
Article content
AXILE is a subsidiary of Buffalo Machinery and was created to serve the high-end of the market by focusing on technology.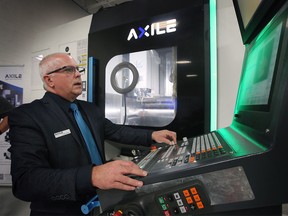 The firm is a global smart machines provider specializing in high-speed and high-precision machines and the relevant technology development.
AXILE's digital intelligent automation technology, known as ART, is a monitoring system that facilitates achieving 24/7 autonomous production with predictive maintenance while optimizing productivity.
AXILE operates in 50 countries in Asia, Europe and now North America.
The company services the tool and die, mould making, automotive, aerospace, health care and general industries.
"We're targeting in five years' time having 10 per cent of the global market of five axis machines," said AXILE director of marketing Iris Chen.
Article content
"After doing the research, the U.S. market accounts for 25 per cent. We need to focus on this market.
"When we were first thinking of North America, we were thinking of Windsor because the location here is very good. It's centre of tool and die and mould making in North America."
Chen said the company's focus initially will be on the automotive sector.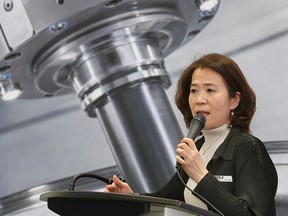 Invest WindsorEssex Investment has been working at landing AXILE Machine for the region since June 2021.
Invest WindsorEssex director of investment attraction Joe Goncalves said AXILE will be a unique company in the local ecosystem with its technology, training and research and development.
"They're technically unique and a global leader," Goncalves said.
"They're a nice addition to the direction we're going in trying to be the automobility capital of Canada. It's another great technology company in our region."
Article content
Goncalves said the research and development aspect of the investment is something that developed later in the deal.
AXILE was intrigued by the competitive government incentives Canada offers companies.
"Canada has the second most lucrative R&D program in the world," Goncalves said. "It's exciting to have research and development and intellectual property from a world-class company being done here.
"They're now looking at their Taiwanese projects and seeing if they can transplant them into North America. We've identified the projects and are now matching them up with professors at the university."
The hope is those projects will then be brought to life by the region's many manufacturing firms.
Goncalves is hoping this is just the start of a flow of investment from Taiwan, which has established itself as global, electronics, technology and microchip powerhouse.
"In the next couple of weeks, we have a delegation from Taiwan coming in with a whole variety of companies that will be visiting our region," Goncalves said.
"Taiwan tends to be in the background, but when you look at their companies — high tech, innovative — now looking more globally and looking to set up in North America.
"Windsor-Essex is well positioned to take advantage of that."
[email protected]
twitter.com/winstarwaddell